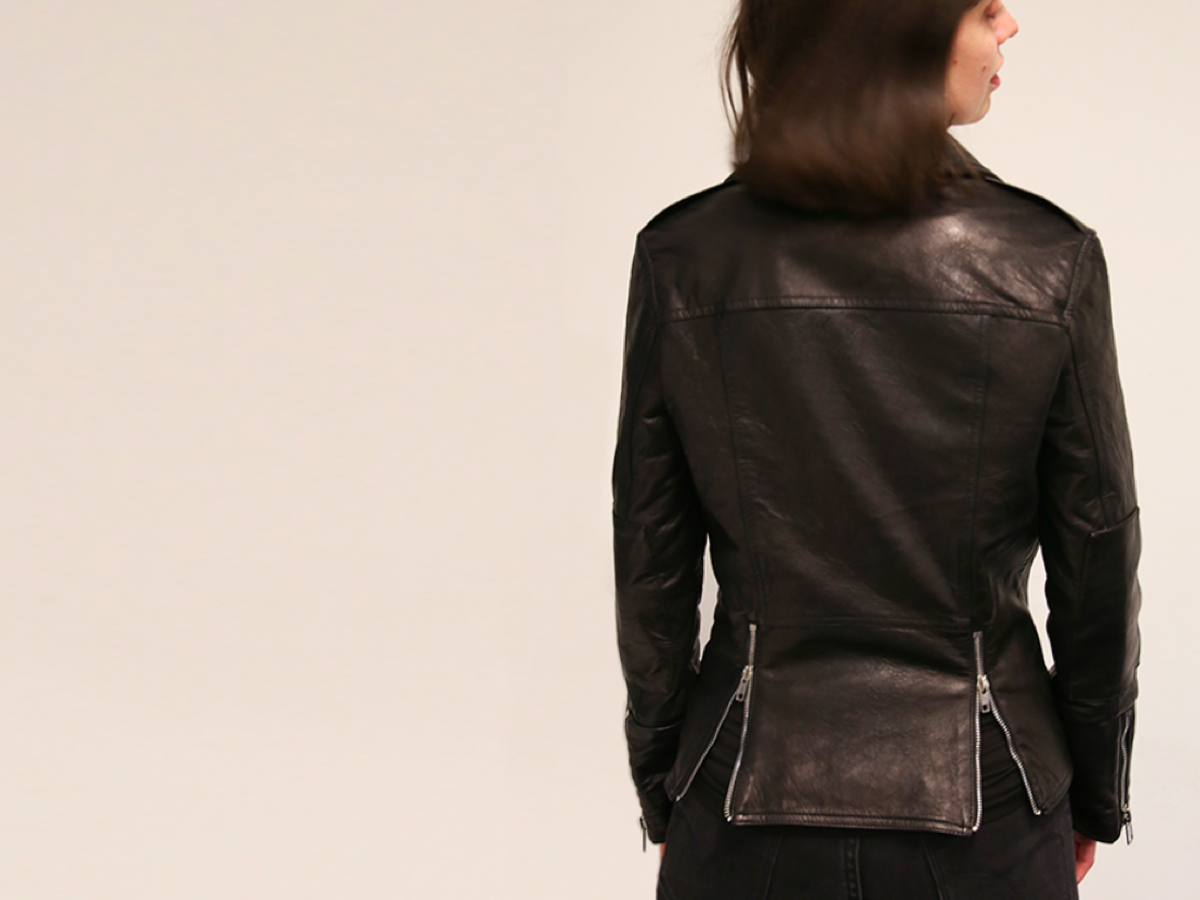 Overview
Timepiece is a classic biker jacket that transitions well from day to night. Made in New York and crafted from fine leather, it is designed to get better with wear. Fully lined in silk, the silhouette is detailed with zippers in the lower back to adjust the fit from boxy to slim.
For a woman on the go, it features a built-in watch that activates by intuitive gesture.
The display camouflages into the sleeve otherwise, so the technology and interaction is quiet, elegant, and delightful.


Timepiece is a product of Modular Patternmaking, my Master's thesis from
New York University's Interactive Telecommunications Program (ITP).
Learn how I made it ︎
Modular Patternmaking
Modular patternmaking is the basis for this product design framework I developed for design & manufacture of wearable technology
The Problem
Unlike fast fashion or PCBs, wearables are not easy to design or mass produce. Between fashion and technology, there resides a lack of communication and collaboration between two vastly different fields of expertise. Googling "wearable/smart clothing" returns a myriad of IoT compatible sportswear and LED-enhanced garments that have failed to gain traction in mainstream fashion.
With limited understanding and access to what is possible outside of their respective industries, it's proven difficult for fashion designers and engineers not to fall into the trap of designing gimmicky solutions for problems that don't exist.
My Thesis
The challenge of manufacturing wearables and functional apparel is hard and soft goods integration. Currently, factories do not have the equipment or skilled labor to assemble garments and hardware all under one facility. Therefore, systems need to be modular.
As a professional patternmaker, I believe a careful dissection of the anatomy of clothing is the answer. Modular patternmaking examines how individual parts of a whole can be manipulated, segmented, and/or combined to assemble clothing with integrated technology. By identifying and taking into account significant form factors such as garment type, silhouette, fit, design details, trims, materials, and finishes, high value wearables can be designed to support the integration of electronics and be scaled for production.
Context & Research
For context, I studied the psychology of human-centered design, and multiple frameworks for product design and optimizing user experiences. I read articles on the fashion supply chain, hardware hacking and manufacturing, connected devices, and the taxonomy of innovations for wearable products and services. I analyzed the traction of smart watches and hearables, and identified the major players, trends, and projections for the global wearables market. In addition, I interviewed industry professionals in wearables consulting, product design, physical computing, and the fashion industry.
To demonstrate and test the viability of modular patternmaking, I designed a case study where I conducted qualitative interviews with 35 people about their style and how they envision the future of wearables. A thorough analysis and aggregation of common themes and insights led to the ideation of Timepiece, a leather biker jacket that explores gesture as a wearables solution. Materials and a detailed techpack was sent to a factory in Midtown, New York City with two-weeks lead time for production to learn about communications and challenges that may arise in manufacturing. Timepiece was assembled in just 8 days.
Next Steps
Timepiece is an ongoing project undergoing user testing to refine my design process. I learned that there is a distinction between knowing how to integrate technology in clothing, and understanding how to integrate wearables/functional apparel in people's lives.
As I continue to work in this field, I look forward to contributing to the future of wearable technology.